Emergency funding
Funding in the event of financial difficulties
There are numerous awards intended to help students experiencing financial difficulties. Some are available to all students, while others have more strict eligibility criteria. Consult our Directory of Scholarships to find out about the options that are available to you.
Emergency funding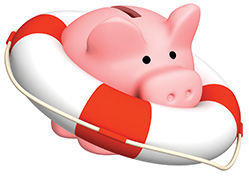 Université Laval, CADEUL, AELIÉS, and Fonds d'aide financière aux étudiants (FAFÉ) provide an emergency fund for students with exceptional financial circumstances compromising their ability to pursue their studies.
This funding is intended for full-time students of all levels who have successfully completed at least one academic session in a degree program.
Emergency funding is available at all times.
Consult our Directory of Scholarships for complete details and eligibility criteria.