Knollenberg Foundation – Imagine That…An environmental challenge for change
Showcasing highly creative and innovative environmental projects!
The Knollenberg Foundation has faith in youth and believes they must play a part in the many environmental challenges facing our world. It supports students who truly care about sustainability and want to make a positive environmental impact in their communities.
The Imagine That…An environmental challenge for change, contest gives bachelor's and master's students (on their own or as a team) the opportunity to develop a promising environmental project that could be implemented at Université Laval or in Québec City.
For more information or to apply, please see the official contest form.
Making a sustainable impact at Université Laval
In all, 13 creative and innovative projects have been launched on campus and across Québec City since the contest began. Take a look!
Pratico Plastique (2020)
Francis Gagnon, Laura Rodrigues, Gabrielle Ferland, Véronique Giguère, Naomée Mann, Samuel Desjardins
This project, which focuses on recovering and recycling plastic, also serves as an awareness and education tool that presents an innovative solution to mitigate the environmental impact of plastic waste.
The social enterprise works in plastic recycling at the local level and achieves a positive net carbon footprint by:
Taking a short-circuit approach that supports the local economy by collecting plastic waste using electric-assisted cargo bicycles
Using optimal contaminant-capture technology to transform raw materials into sustainable goods, thereby reducing pollutant emissions to zero
The plastic waste collected, recycled, and transformed into practical items or furniture will be sold in stores throughout the region.
The project team also stands out for its community involvement. They raise consumer awareness of environmental issues by offering workshops in community settings and they promote work reintegration by creating jobs within the company. They also created the FabLab (manufacturing shop) to teach people how to make things, as well as the Repair Café, a workshop for repairing a wide variety of items.
This student project aimed at reducing our plastic footprint, raising public awareness, and getting the community more involved uses a highly creative and original recycling process to promote sound environmental management.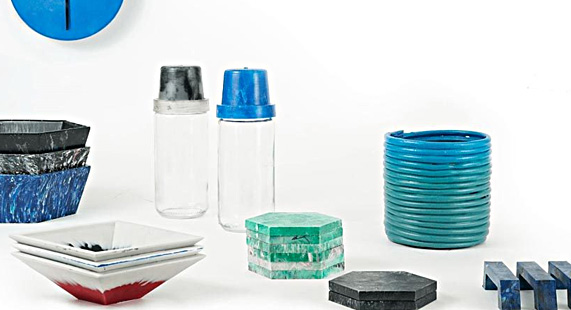 Les Snorôs (2020)
Alexane Thiffeault
The purpose of this project is to provide vegetable-based bakery and pastry products. Snorôs high-fibre, high-protein waffles are made of 50% vegetables, offering a healthy alternative for breakfast and snacks.
The team members are committed to reducing food waste by using grade B fruits and vegetables. Using ingredients mainly from Québec producers and processors, the company displays the Aliments du Québec logo on its packaging, which is reusable and recyclable. The goals of reducing their environmental footprint and contributing to the Québec economy are important concerns for the project team.
Mutual aid and social inclusion are also central values for this company, which hopes to partner with Groupe TAQ, an adapted enterprise that offers socio-occupational integration for people with functional limitations, to get help with product preparation. A partnership with the Club des petits déjeuners is also in the works to bring in volunteers and distribute their products free of charge.
This project to produce Snorôs vegetable waffles will have an ecological, economical, environmental, and social impact.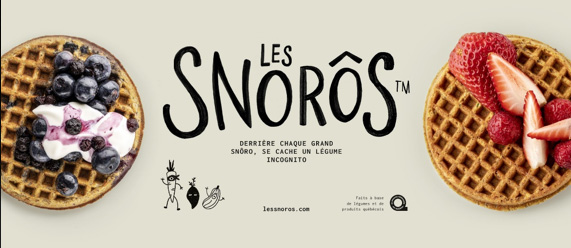 Tâche de le voir (2020)
Zainab Ridha et My-Chi Nguyen
This is an exciting awareness-raising project aimed at securing a sustainable future for the health of young people. The TÂCHE de le voir team came up with the idea of holding workshops in schools to educate youth and adolescents about the harmful effects of UV rays on the skin. Backed by dermatologists and other health specialists, the interactive presentations feature information that's always up to date and designed to spark discussion.
Although this is a health project, the team makes a point of being as eco-friendly as possible. They decided to switch from brochures initially printed on recycled paper to electronic formats, use reusable dishes whenever possible, donate unused materials to organizations, and hand out symbolic bracelets made of sustainable materials at the end of workshops.
The project coordinators now plan to reach a wider audience by organizing a one-day event—a skin cancer screening clinic—in collaboration with dermatologists and Université Laval student volunteers. On-campus lectures and fundraising events for melanoma research are also planned.
This health project has adopted a sustainable development approach through sustainable health promotion, prevention, and maintenance activities.


Produit alimentaire Uni-Vrac
Sarah Tremblay, Florence Martin
Offering healthy, nutritious, low-cost food on campus
A group of undergraduate Food Science and Technology (FSSA) students created this not-for-profit organization. Their mission: to reduce the environmental footprint of traditional food marketing by reducing overpackaging. They offer a variety of products such as grains, cereals, dried fruit, and basic pantry supplies (flour and sugar), as well as snacks such as pretzels. Customers can also purchase fresh vegetables through a partnership with VIA Agro-écologie, an FSSA student association that promotes and raises awareness about agroecological options.
The store opened in September 2019 in the Pollack Building at Université Laval.
https://www.facebook.com/produitsalimentairesunivrac/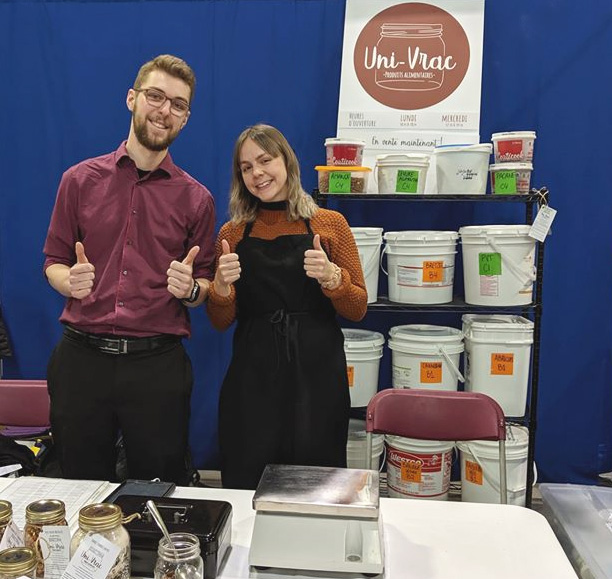 Be-Cycle
Léonie Chevalier
The goal of the Be-Cycle project is to build bicycles from recycled materials, mainly plastics, to offer a new means of transportation for the university community and for rural populations in Africa.
Inspired by the Precious Plastic model, which creates things out of plastic waste, Be-Cycle aims to build bicycles by recovering locally available materials, simultaneously reducing waste, promoting mobility, and encouraging local economies.
Creating the prototype here at Université Laval would leverage the expertise of the engineering and design faculties to optimize techniques for turning plastic into useful objects. Once the concept is developed, it can be deployed in certain rural areas of Africa as a local collaborative industry where people can create and market their own bicycles, thereby addressing a transportation problem and facilitating access to education, health, and businesses.
Tasse & Co
Alice Magny
The Tasse & Co project provides a green alternative to the disposable cardboard cups used by cafés and restaurants across Québec City. Specifically, it involves setting up a subscription services where cafés can rent out a quantity of reusable coffee mugs to replace single-use cups.
Using a transactional system, customers will have the option to keep their mug for personal use or return it to one of the many drop-off locations across the city. The recovered cups will then be redistributed to the various outlets, promoting the zero-waste concept.
Tasse & Co's mission is to significantly reduce the number of single-use coffee cups discarded each year by Québec City residents by offering an environmentally friendly alternative to single-use coffee cups and promoting cooperative values.
L'Hôpital des Nounours
Ievgen Gegiia
Making healthcare fun for kids
In 2018 some 130 children between the ages of 3 and 7 visited to the Faculty of Medicine with their favourite stuffed animal to meet the Hôpital des Nounours team of health science students. The children and their stuffed animals went on a fun and educational tour to learn all about the different parts of hospital and clinical settings: triage, medical imaging, surgery, vaccination, pharmacy, dental care, and even trauma. The project also helped future health professionals get a feel for working with young patients and how to better understand and reassure them.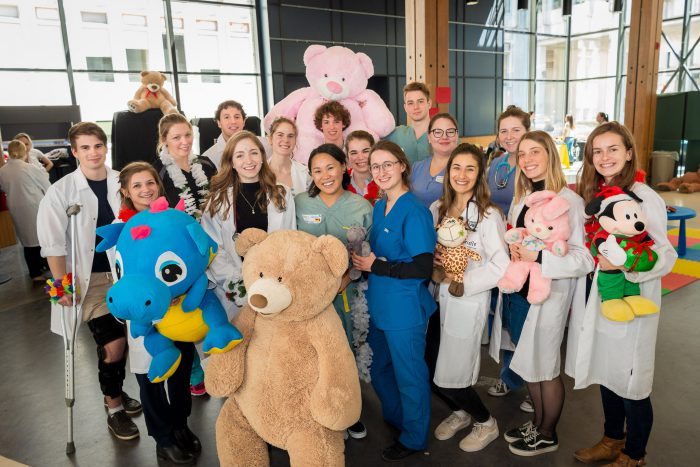 Agro-Cité
William Chevarie, Marika Drouin, Liza Marot-Bozza, Pierre-Louis Desgagnés
The goal of this innovative, interdisciplinary project is to build an aquaponic system and microecosystem to develop food production techniques with a reduced environmental impact.
Initially, the project was to create a workspace for members of AgroCité, an association dedicated to increasing food autonomy by producing a variety of fresh, nutritious foods on campus. This led to the idea of designing an aquaponic system. The members of the group pooled their scientific knowledge and came up with a new idea: to develop an additional space for rearing insects and crayfish to reduce the environmental impact of their food production.
The fish and plant farming system turned out to be a great initiative, where fish waste is used as fertilizer for seedlings, and, in exchange for these nutrients, the plants filter the aquarium water. Insect breeding is an environmentally friendly alternative to buying commercial fish feed, while the goal of the crayfish breeding project is to assess the animals' ability to ingest solid waste in the aquarium.
This promising R&D facility will offer greater autonomy in environmentally responsible food production (lettuce, herbs). It is an innovative concept and the epitome of alternative urban agriculture.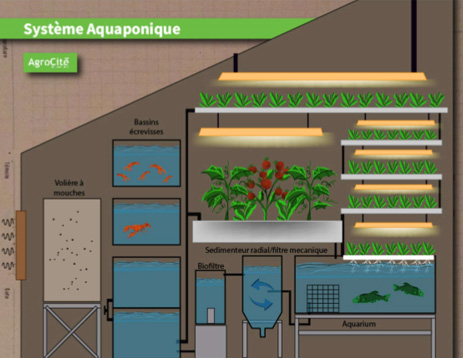 SPOT
Cynthia Gauthier et le Comité innovation de l'ASSÉTAR
SPOT (Sympathique Place Ouvert à Tous) seeks to rehabilitate an urban space by showcasing the architecture of Québec City. This public space will be redeveloped as a place for Québec City residents to meet, interact, and take part in a variety of activities. The community aspect is also an important, integral part of the summer programming, which includes market garden day, gardening workshops, and a crafts day.
The wooden popup structure, designed and produced by students of the School of Architecture and Design with the help of local architects, will attract visitors to the square in front of St. Charles de Limoilou Church and show off the architectural heritage of this area.
This student project stands out for its unique community focus: knowledge sharing, partnership, community involvement, socially inclusive action, and promoting the chosen space using an original popup structure.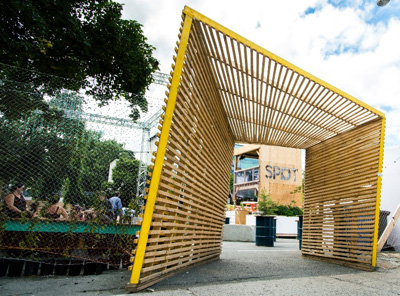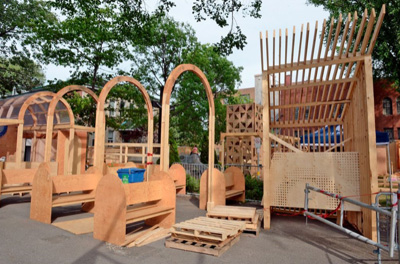 Forêt nourricière
Samuel Jalbert, India-Jane Tremblay
The objective of this project is to establish a food forest in the Université Laval woods. Efforts to enhance and develop local ecosystems will also raise community awareness of sustainable practices, particularly the importance of healthy, locally sourced food. Forestry and agronomy students will join forces and pool their experience to create a space for growing organic food.
Their project is sure to have a meaningful impact because it addresses a number of social and environmental challenges. Not only will it develop urban agriculture, but it will also create a user-friendly space for meeting and learning, with signs posted to identify the plants and explain their nutritional potential. It will also promote inter-faculty collaboration.
This concept is innovative, unifying, and entirely consistent with a responsible and sustainable perspective.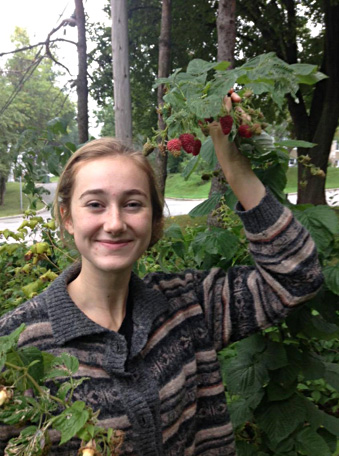 Chem-E-Car Ulaval
Alexis Bernard
The goal of this project is to design a small vehicle powered by chemical reactions. This safe, green vehicle will be made from recycled materials and will not emit any pollution or waste.
This is an exciting educational project because it seeks to leverage the knowledge of chemical engineering students at Université Laval and partner with other universities to share knowledge as well as the costs of travelling to competitions and purchasing chemicals. This year, the goal is to design an electric vehicle without using lithium. Vehicle aesthetics and aerodynamics are also part of the challenge. All the work on the propulsion and braking mechanisms on this powerful little car will impact how energy will be used by tomorrow's society. The team will take part in various competitions to demonstrate the potential of this project.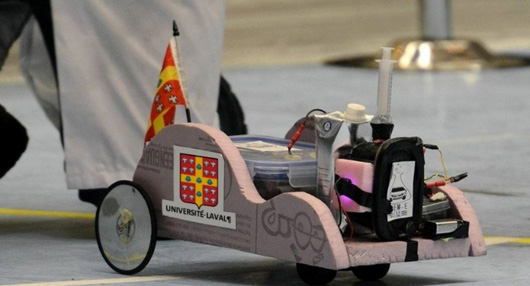 Alimentation végétalienne et sans déchet
Alicia Talbot-Lanciault
This is a project to reduce the Université Laval campus's environmental footprint. The use of single-use containers in cafeterias and the focus on omnivore and vegetarian foods are the two main issues the project creator set out to address.
A sustainable alternative is proposed to eliminate packaging from take-out dishes (both on and off-campus) by using washable, unbreakable (and therefore reusable) dishes and by asking consumers to bring their own containers as needed.
The idea of offering one vegan meal per day in cafeterias at a lower price than other meal options is intended to help reduce the high ecological impact of the livestock sector: greenhouse gas emissions, water consumption, and land use. A potential collaboration with School of Nutrition students is being considered to develop vegan menus without processed foods.
The Service d'alimentation écoresponsable project aspires to reduce the University community's environmental impact and make students aware of their societal responsibilities related to food.
Le Jardin des lumières
Renée-Anne Bédard, David Bouchard, Francis-Olivier Bureau, Pierre-Olivier Demeule, Marie Gauthier, Audrey Lapointe
The goal of this interdisciplinary team project is to create a net-zero building that produces as much energy as it consumes. This faculty house will also raise awareness about the responsible use of building energy systems.
Sustainable materials, such as fibre-reinforced concrete (which presents clear advantages in terms of its durability and undeniable acoustic and thermal properties) and wood will be used to build the project. And solar panels, geothermal wells, rainwater collection systems, and composting tanks are just some of the innovative and sustainable technologies that will go into the building's mechanics.
The result will be a state-of-the-art, sustainable building that is sure to have a positive impact on the lifestyle of those who frequent this "garden of lights."