Bourses de leadership et développement durable
This program is currently under review and subject to change. We invite you to visit this page regularly. Information on the next competition will be updated as soon as possible.
Program overview (admission scholarship)
With this scholarship program, Université Laval supports talented students who have accomplished outstanding things in one of the six following fields: social and humanitarian work, entrepreneurship, the arts, the environment, sports, or science.
This scholarship program is available for students planning to apply for the winter 2019, summer 2019 or fall 2019 session of a regular Université Laval program.
Deadline: February 15th, 2019
To access the scholarship application form, you must have submitted an admission application to Université Laval; please allow a few days for the processing of your admission application.
Eligibility conditions
To submit your application, please consult the description.
The scholarship payment schedule
Undergraduate: $2,000 per year (up to 3 or 4 years, depending on program length)
Master's: $5,000 per year (up to 2 years)
Doctoral: $10,000 per year (up to 3 years)
Scholarships are renewable annually for the official duration of the study program, contingent on proof of continuing leadership and ongoing full-time study in the program for which the scholarship was granted.
Note that when scholarships are awarded, the applicant must have received a conditional or final offer of admission to Université Laval. Candidates who are on the waiting list will not be considered eligible.
---
2018 scholarship recipients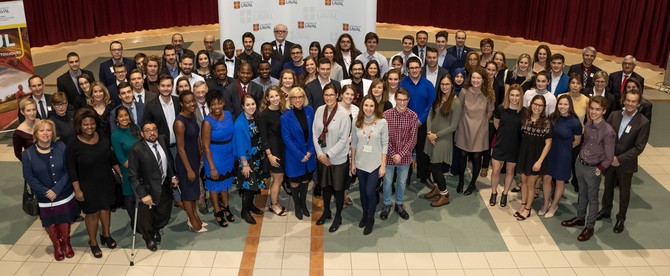 Have you got the right profile?
Here are profiles of some of our 2017–2018 scholarship recipients.
Romy Boutin St-Pierre, leadership artistique
L'art, particulièrement sous la forme théâtrale, est l'outil de communication privilégié par Romy Boutin St-Pierre pour véhiculer des idées et mener une action. Déterminée et passionnée, elle réalise un court métrage donnant la parole à des immigrants de Québec, agit comme porte-parole lors d'un événement devant le Parlement et codirige une œuvre théâtrale engagée ayant permis de recueillir des fonds pour un organisme œuvrant auprès des travailleuses du sexe. Outre ses études collégiales en théâtre, Romy s'est impliquée dans trois productions de la troupe du Grand escalier, a travaillé comme comédienne-animatrice au lieu historique nationale de la Grosse-Île-et-le-Mémorial-des-Irlandais et a été jeune reporter pour Radio-Canada lors de l'événement RDV2017. Aller au-delà des exigences par la créativité et l'effort soutenu, voici ce qui l'interpelle et la caractérise.
Sahil Tajdin Khoja, leadership entrepreneurial
Après avoir obtenu un baccalauréat en administration des affaires, Sahil Tajdin Khoja, reconnu pour sa force tranquille et inébranlable, retourne aux études afin d'acquérir les connaissances et les aptitudes nécessaires pour propulser sa nouvelle entreprise. C'est en 2015 qu'il cofonde une entreprise innovatrice en technologie de l'information, Swipecity. Cette application mobile assure la promotion de la culture québécoise en temps réel en permettant à l'utilisateur de découvrir la culture et le patrimoine des villes.
Ses partenaires et lui sont d'ailleurs largement récompensés. Ils remportent notamment le Hackaton des Journées de la culture – édition Québec et se démarquent au Défi OSEntreprendre en gagnant le prix Coup de coeur du public en 2016 puis le premier prix dans la catégorie Service aux entreprises en 2017. Leur projet est si prometteur qu'ils obtiennent aussi une bourse de 25 000$ de la Ville de Québec pour développer leur projet.

Anne Bernard, leadership environnemental
Présidente de l'Association des étudiants gradués en foresterie, Anne Bernard s'implique dans de nombreux projets locaux et internationaux pour valoriser les ressources forestières. En 2013, l'Union internationale pour la conservation de la nature au Cameroun lui demanda de développer une formation adaptée à la société civile des pays d'Afrique centrale sur la réduction des émissions dues au déboisement et à la dégradation des forêts. Elle la présentera à quatre villages de la République démocratique du Congo. Ici, Anne a contribué à faire reconnaître l'importance du milieu forestier, entres autres grâce à sa participation au Festival forestier Saint-Raymond – La Grosse Bûche. Elle est aussi lauréate de plusieurs bourses et de deux Fonds de recherche du Québec: Nature et technologies pour sa maîtrise et Société et culture pour son doctorat. Engagée et dotée d'une volonté inébranlable, elle change le monde, petit à petit.
Antoine Gagnon, leadership scientifique
Jeune chercheur engagé, talentueux et polyvalent, Antoine Gagnon a obtenu plusieurs bourses d'excellence, dont celles du Fonds de recherche du Québec — Nature et technologies, du CRSNG, de l'American Shotcrete Association et la bourse d'études supérieures de RECYC-QUÉBEC. Il a participé à plusieurs conférences internationales, par exemple celle de l'American Concrete Institute, et il a écrit des articles scientifiques, notamment comme premier auteur. D'abord juge, puis mentor d'équipes au concours Expo-sciences, Antoine veut transmettre sa passion de la science aux jeunes. Président de l'Association des étudiants gradués en génie civil et des eaux, il enseigne aussi la formation de lanciers pour le béton projeté et s'investit dans des projets entrepreneuriaux. Son leadership s'exerce autant auprès de ses pairs que de scientifiques de renommée mondiale, qui ont reconnu la très grande valeur de ses communications.
Maxime Lavoie, leadership social / humanitaire
Le bien-être et l'épanouissement des membres d'une communauté sont ancrés au coeur des actions de Maxime Lavoie. Fondateur de l'Association des Jeunes philanthropes de l'Université Laval, il insuffle la solidarité en mobilisant ses collaborateurs dans la concrétisation de projets créatifs. Parmi ses nombreuses activités sociales figure son implication comme administrateur dans l'association Enactus Université Laval et à la Table du Pain, qui vient en aide aux personnes en précarité sociale et financière. Pour soutenir ses engagements constants, Maxime a déjà reçu plusieurs bourses. Ses engagements communautaires ne font pas ombrage à son parcours scolaire: il a obtenu plusieurs distinctions, notamment la Médaille académique du Gouverneur général et plusieurs prix d'excellence pour ses travaux universitaires.
Jane Gagné, leadership sportif
Joueuse au sein du Club de basketball féminin du Rouge et Or depuis 2014, Jane Gagné aide son équipe à remporter la médaille d'argent au championnat national à Victoria en 2017 et est nommée joueuse étoile du tournoi des 8 finalistes. Athlète par excellence de la ligue universitaire de basketball pour la saison 2016-2017, elle est membre de l'équipe
canadienne aux Jeux de la Francophonie. Son désir de se surpasser et son leadership dans la victoire comme dans la défaite lui valent une bourse de leadership et développement durable – sportif de premier cycle, en 2013 et une nomination au prix Tracy MacLeod pour la détermination, la persévérance et le courage, en 2017. De plus, Jane participe aux activités de financement de son équipe et anime des ateliers de basketball pour les jeunes du primaire et du secondaire.
Frequently asked questions
Who is eligible for the 2019-2020 Leadership and Sustainable Development Scholarships?
The program is open to all students (Canadians, permanent residents, international students) who have applied for admission to a regular undergraduate, master's or doctoral degree program at Université Laval for the winter, summer, or fall semester of 2019.
Are students who have already started their degree programs eligible?
No. You are not eligible if you began your program of studies prior to the winter 2019 semester. Leadership and Sustainable Development Scholarships are admission scholarships available only to students beginning a new undergraduate, master's, or doctoral degree program at Université Laval during the winter, summer, or fall semester of 2019.
Are students entering postdoctoral, advanced graduate diploma, or short programs eligible?
No, only undergraduate, master's, and doctoral degree programs are eligible for scholarships under Université Laval's Leadership and Sustainable Development Scholarship Program.
Are students admitted for certificate programs eligible?
No, only undergraduate, master's, and doctoral degree programs are eligible for scholarships under Université Laval's Leadership and Sustainable Development Scholarship Program. Students who wish to pursue a multidisciplinary bachelor's degree must provide the Bureau des bourses et de l'aide financière with proof when they apply for the scholarship program.
Are part-time students eligible for the program?
No. One of the eligibility criteria is that students must be registered full-time in all sessions for which the scholarship is awarded.
Does the Leadership and Sustainable Development Scholarship Program cover recipients' tuition fees and living expenses?
No. The value of the scholarships is as follows:
Undergraduate level: $2,000/year (maximum of 3 or 4 years depending on anticipated length of program)
Master's level: $5,000/year (maximum 2 years)
Doctoral level: $10,000/year (maximum 3 years)
Note that scholarships are paid to recipients (by cheque or direct deposit) after the deadline for withdrawing from courses with a refund and without failing in order to ensure that recipients are registered full-time for the session in question.
Leadership and Sustainable Development scholarships are not applied to tuition fees. Students receiving scholarships must pay their tuition fees by the date indicated in the university calendar.
What supporting documents must be submitted with my application?
You need to submit your application form and your official transcript, which must be converted into digital format as a single document. You also need to provide your IDUL number and password (the ones for your ulaval.ca email account, received from the Registrar's Office when your application was processed) and contact information for the person providing your reference.
Is it possible to submit hard copies?
No. All applications must be submitted via the online applications page, using your IDUL number and password. Hardcopies and forms sent by email will not be accepted.
Are Capsule transcripts accepted?
Yes. All your official transcripts (college-level transcripts for undergraduate scholarships and all your university transcripts for graduate-level scholarships) must be converted into digital format as a single PDF document and submitted along with your application form.
Who can I use as a reference for my application?
Your reference must know your work, achievements, and record well enough to speak knowledgably about you. He or she must have Internet access and must complete a form attesting to your leadership activities and explaining what makes you a leader in your chosen field (the arts, environment, entrepreneurship, science, social/humanitarian action, or sports).
References can be teachers, professors, employers, supervisors, or coaches. They do not have to be Université Laval professors or Québec residents. Family members, friends, and roommates cannot be used as references. References must not be related to the applicant.
Can my reference complete the form in English?
Yes. Your reference will have access to an English version of the reference form.
What weight is assigned to my academic record in the committee's decision?
In considering your file, the committee assigns a weight of 45% to leadership, 40% to involvement, and 15% to academic achievement.
When are the results announced?
Results are emailed at the beginning of April 2019. All candidates who apply on the applications page will be informed of results.
What is the procedure for renewing the scholarship?
Each year, the eligible recipients will receive an email with all necessary information. They will have to complete the online scholarship renewal form and submit it before deadline.
If you are eligible, you will have to demonstrate that you have kept up your leadership and involvement activities throughout the year. You must also ask for a referee to fill out a part of your form, either the person who originally recommended you or someone else. Renewal applications are analysed by a committee, and the results should be emailed before the end of April.
Please note that the renewal process does not apply if you graduate from a baccalaureate to a master, or from a master to a doctorate. In that case, you must submit a new application through the main scholarship program before the indicated deadline.