Bourses de leadership et développement durable
Starting this next winter semester 2020, this scholarship program will no longer be available. It will be replaced by:
The following information only applies to the students who already received this scholarship before the end of the program.
Program overview (Admission scholarship)
With this scholarship program, Université Laval supports talented students who have accomplished outstanding things in one of the six following fields: social and humanitarian work, entrepreneurship, the arts, the environment, sports, or science.
The scholarship payment repartition
Undergraduate: $2,000 per year (up to 3 or 4 years, depending on program length)
Master's: $5,000 per year (up to 2 years)
Doctoral: $10,000 per year (up to 3 years)
Scholarships are renewable annually for the official duration of the study program, contingent on proof of continuing leadership and ongoing full-time study in the program for which the scholarship was granted.
---
Boursiers PBLDD 2018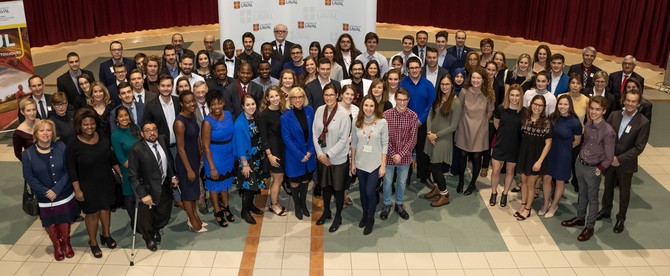 1. Is the Leadership and Sustainable Development Scholarship Program (PBLDD) still available?

As of the 2020 winter term, this scholarship program is no longer available. It has been replaced by the Leadership and Commitment Scholarship (for Canadian citizens and permanent residents) and the Citizens of the World Commitment Scholarship (for international students).
2. Will students already receiving a PBLDD scholarship continue to receive instalments as per their scholarship offer?
Yes, if they meet the program's eligibility requirements and their annual renewal application is approved by the Selection Committee.
3. Do scholarship recipients who change programs remain eligible for scheduled instalments?

Yes, as long as they remain registered full-time in the same degree level as the one they received the scholarship for.
4. Do scholarship recipients who change programs to a certificate, postdoctoral, advanced graduate diploma, or short program remain eligible for scheduled instalments?

No. They must remain registered in a program eligible for the PBLDD, i.e., a regular bachelor's, master's, or PhD program, as required at the time of application.
5. Are part-time students eligible to renew these scholarships?

No. One of the eligibility criteria is that students must be registered full-time in all terms for which their scholarship is awarded.
6. Does a PBLDD scholarship cover the recipient's tuition and living expenses?

No. The value of each scholarship is as follows:
Bachelor's degree: $2,000/year (maximum of 3 or 4 years depending on the expected length of program)
Master's degree: $5,000/year (maximum of 2 years)
PhD: $10,000/year (maximum of 3 years)
Please note that scholarships are paid directly to recipients (by cheque or direct deposit) after the deadline for withdrawing from courses with a refund in order to ensure that recipients are registered full-time for the term in question.
Instalments are not applied to the payment of tuition fees. Recipients are responsible for paying their tuition fees themselves by the date specified in the university calendar, otherwise administration fees will be added to the balance.
7. What is the procedure for renewing a scholarship?

Each year, scholarship recipients eligible for renewal receive an email containing the necessary information by February at the latest. They must complete the online renewal form and submit it by the specified deadline.
If you are eligible, you must demonstrate that you maintained your leadership and commitment throughout the year. You must also provide the name and contact information of a sponsor (the one on your original application or someone else) who can validate certain information if necessary.
Please note that a PBLDD scholarship cannot be renewed for any degree level. You must submit a new scholarship application if you change your degree level.
8. Who can act as a sponsor for a scholarship renewal?

The sponsor doesn't have to be the same as the one on the original application. The sponsor must be familiar with the recipient's leadership qualities, involvement, and background to be able to speak about them. The sponsor will not have to complete any forms. Only their name and contact information will be provided to the Selection Committee by the scholarship recipient.
The sponsor may be a professor, employer, supervisor, coach, etc. They do not have to be a professor at Université Laval or reside in Québec. The scholarship recipient's family members, friends, or roommates are not allowed to act as sponsor. The sponsor must not be related to the scholarship recipient.
9. When are the results of renewal applications announced?

Renewal applications are reviewed by a committee and the results are sent by email in early May.