Managing your budget
Sound financial health starts with making, understanding, and respecting your own personal budget. With practice and good advice, you will develop your budgeting skills in no time! Check out the resources available below to help you make a budget.
Fees
Proper planning is essential to ensure you have the financial resources necessary to meet your needs and pay for your studies. Be sure to review the detailed information available about your tuition and other fees.
Fees
Sample student budgets
Here are a few sample budgets based on different student profiles to give you an idea of how much money you'll need and the expenses you can expect. These examples will also give you an idea of the cost of living in Québec City.
Budget tools
Creating a budget is not as tedious as you might think, and the benefits are undeniable. A budget can help you figure out your priorities, achieve specific financial goals, reduce stress, prepare for the unexpected, and avoid the consequences of excessive debt.
The Bureau des bourses et de l'aide financière provides you with the following tools that allow you to establish a personalized budget to better guide you in your financial decisions and thus help you improve and maintain good financial health:
Budget management grid: Simple and especially designed for university students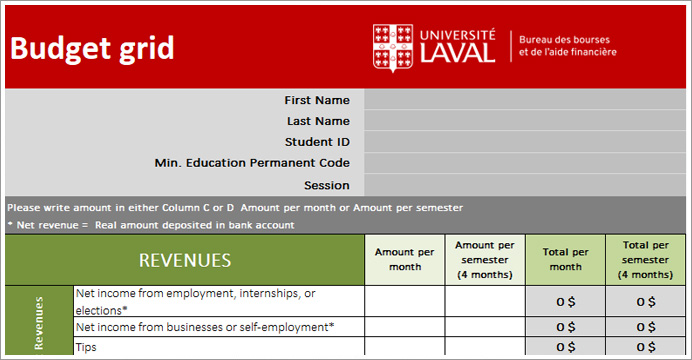 Faistonbudget.ca: Online interactive tool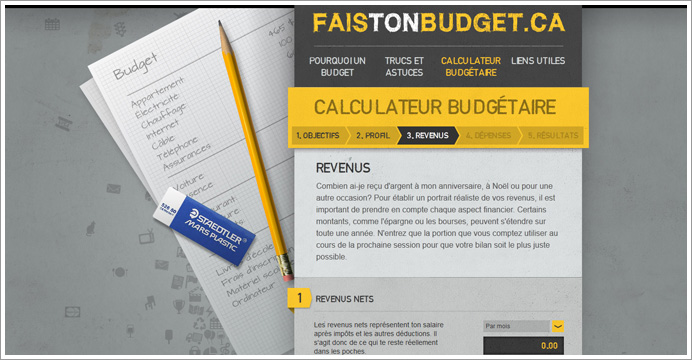 Calculator – credit card
Exercise one or more of these tools will allow you to fully understand the risks associated with interest payments, improve your use of credit and help you limit debt:
Calculator – credit card of the Financial Markets Authority
Calculator – credit card of the Financial Consumer Agency of Canada
Further reading
Your financial institution may have its own financial education program. Talk to an expert, they're here to help!