Managing your budget
There are lots of resources available to help you make a budget, including sample budgets listing the annual expenses you can expect based on different student profiles, an interactive online budget calculator, and helpful tips for saving money.
Fees
Proper planning is essential to ensure you have the financial resources necessary to meet your needs and pay for your studies. Be sure to review the detailed information available about your tuition and other fees.
Fees
Sample student budgets
Here are a few sample budgets based on different student profiles to give you an idea of how much money you'll need and the expenses you can expect. These examples will also give you an idea of the cost of living in Québec City.
Interactive budget calculator
Creating a budget is not as tedious as you might think, and the benefits are undeniable. A budget can help you figure out your priorities, achieve specific financial goals, reduce stress, prepare for the unexpected, and avoid the consequences of excessive debt.
At faistonbudget.ca (in French only) you can learn more about personal finance and create a customized budget to guide your financial decisions.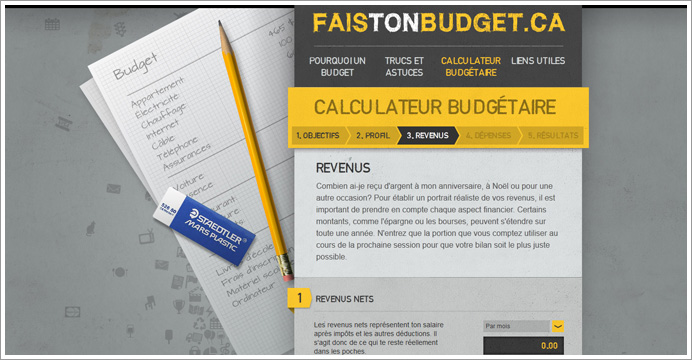 Money-saving tips
Create a budget: Sound financial management starts with making, understanding, and respecting your own personal budget. With practice and guidance, you'll develop your budgeting skills in no time! The Student Awards and Financial Aid Office is here to help.
Reduce your debt: Borrow only what you need and schedule regular meetings with your financial planner.
Avoid paying interest: Set up automatic monthly payments of your credit card balance.
Use a reloadable prepaid credit card: If you have trouble sticking to your own spending limits, this is a great way to keep yourself on track.
Make your own meals: When you plan your meals in advance, you save a lot of money by cutting down on food waste. Make a list before you head to the grocery store, and then stick to it.
Find a cell phone plan that fits your actual needs: Ask for quotes from a few different providers and negotiate. Keep in mind that many places offer free WIFI, so don't choose a package with more data than you need.
Find low-cost housing: The Université Laval Residence Office has affordable accommodations close to many campus services and amenities.
Avoid nonessential purchases: "Think before you buy" is a good practice for saving. Before you reach for your wallet, take a moment to ask yourself, "Do I really need this?"
Check online for sales: Compare products online before you go to the store so you can be sure to get the best price.
Set money aside: Open a savings account to set money aside for your personal plans and dreams—and to ensure you have a bit of a cushion for covering unexpected expenses without resorting to credit.
Develop budgeting skills
If you're interested in taking your skills to the next level, you can register for this personal finance course: Mes finances personnelles (CTB-1903). In this one-credit course, you will learn how to assess your current financial situation and set specific goals to pay down debt and build your savings. The financial knowledge you gain can help you improve your quality of life.                   
Course information