Financer ses études
Profitez d'un vaste choix de financement
L'argent ne fait pas le bonheur, mais il peut parfois donner un sacré coup de pouce. Les études universitaires représentent un véritable défi en ce domaine, car il faut apprendre à maximiser chacun des dollars amassés en conjuguant un revenu souvent très variable à de multiples incitatifs de consommation. L'équipe du Bureau des bourses et de l'aide financière de l'Université Laval offre un service complet pour vous appuyer dans votre recherche de financement et l'établissement d'un budget.
Prêts et bourses
Les prêts et bourses constituent un excellent moyen d'obtenir du financement offrant de nombreux avantages:
Montant accordé sous forme de prêts et parfois même de bourses en fonction de vos besoins et de vos revenus.
Prêts avec un taux d'intérêt très avantageux, remboursables à la fin des études.
Intérêts déductibles d'impôts durant tout le remboursement du prêt.
Possibilité de faire une demande de remboursement différé pour vous permettre, en cas de situation financière précaire, de rembourser votre dette d'études selon vos moyens et possibilité de bénéficier d'une remise de dette de 15%.
Possibilité d'avoir des bourses qui n'auront pas à être remboursées à la fin des études.
Cette démarche très simple s'effectue en ligne et peut représenter un avantage majeur pour la poursuite de vos études.
Benefits of Loans and Bursaries compared to a line of credit
Line of credit

Loans and Bursaries

Interest rates

Determined by the institution, sometimes variable
Very often, the interest rate increases after graduation

Determined by the government, usually lower than rates offered by financial institutions
Interest during studies
Must be paid during school or added to the debt
The Ministère pays the interest during Full-time studies
Acquisition
Credit check required
No credit check
Other features

Life insurance may be required during studies
Possible over-indebtedness

Amount determined by the Ministère to fulfil students' everyday needs
Other benefits
Total amount must be repaid after the end of studies

Possibility of earning scholarships that do not need to be repaid after graduation
Possibility of receiving a 15% loan remission
Tax credit on the interest paid on the student loan
Possibility to apply to the Deferred Payment Plan which allows you to repay your student loan, according to your budget and despite your financial difficulties
Bourses d'études
Il est important de ne pas confondre les bourses d'études avec les prêts et bourses. En effet, vous pouvez être admissible à une bourse d'études même si vous n'êtes pas admissible à l'aide financière du gouvernement. Contrairement à la croyance populaire, les bourses d'études ne sont pas exclusivement réservées à l'excellence académique. Il existe une multitude de bourses d'études dont les montants varient autant que les critères d'admissibilité établis par le donateur: admission, mobilité, leadership, excellence, étudiants étrangers, situation financière précaire, etc.
Funding in the event of financial difficulties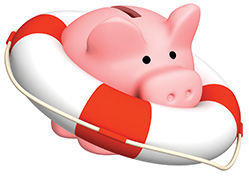 There are numerous awards intended to help students experiencing financial difficulties. Some are available to all students, while others have more strict eligibility criteria.
Emplois
Travailler à temps partiel pendant l'année scolaire et à temps complet pendant l'été comporte beaucoup d'avantages:
Assure une autonomie financière
Évite le surendettement
Permet d'acquérir une belle expérience de travail pour l'avenir