Financing your studies
Take advantage of a wide range of options
Money doesn't buy happiness, but it can sometimes give you a big boost. A university education can be a real challenge financially, because you have to learn to make every dollar count as you deal with an often highly variable income and multiple incentives to consume. The team at the Student Awards and Financial Aid office at Université Laval offers comprehensive services to help you find financing and draw up a budget.
Loans and bursaries
Loans and bursaries are a great way to obtain financial assistance with many advantages:
Amount granted in the form of a loan and sometimes a bursary portion based on your needs and income.
Loans with a very advantageous interest rate, repayable at the end of full-time studies.
Tax-deductible interest throughout the loan repayment period.
Option of requesting deferred repayment in the event of financial difficulty to allow you to repay your student debt according to your means, with the possibility of qualifying for a 15% loan remission.
Possibility of obtaining bursary funding that doesn't have to be reimbursed at the end of your studies.
This very simple online process can be a major plus in helping you pursue your studies. There is also a part-time student loan program.
Benefits of Loans and Bursaries compared to a line of credit
Line of credit

Loans and Bursaries

Interest rates

Determined by the institution, sometimes variable
Very often, the interest rate increases after graduation

Determined by the government, usually lower than rates offered by financial institutions
Interest during studies
Must be paid during school or added to the debt
The Ministère pays the interest during Full-time studies
Acquisition
Credit check required
No credit check
Other features

Life insurance may be required during studies
Possible over-indebtedness

Amount determined by the Ministère to fulfil students' everyday needs
Other benefits
Total amount must be repaid after the end of studies

Possibility of earning scholarships that do not need to be repaid after graduation
Possibility of receiving a 15% loan remission
Tax credit on the interest paid on the student loan
Possibility to apply to the Deferred Payment Plan which allows you to repay your student loan, according to your budget and despite your financial difficulties
Scholarships
It is important not to confuse scholarships with loans and bursaries. You may be eligible for a scholarship even if you are not eligible for government financial assistance. Contrary to popular belief, scholarships are not awarded exclusively for academic excellence. There are a multitude of scholarships in amounts that vary as much as the eligibility criteria established by the donor.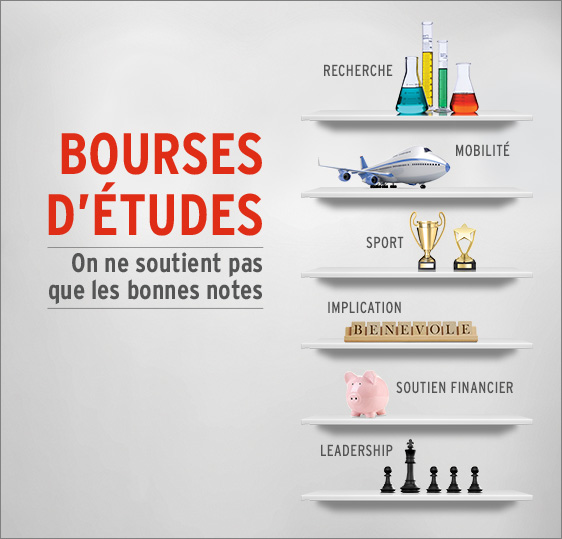 Jobs
Working part-time during the school year and full-time during the summer has many advantages:
Gives you financial autonomy
Helps you avoid excessive debt
Provides great work experience for the future