All about the Loans and Bursaries Program
---
Calculating loans and bursaries
Contributions from parents and spouses
---
There are many reasons for choosing the Government of Québec Loans and Bursaries Program (Student Financial Assistance – SFA) over other forms of credit:
You may be eligible for a bursary in addition to your loan
No interest or payments while you're at school (full-time studies only)
The best interest rates on the market (set by the government)
15% loan remission at the end of your studies (some conditions apply)
Eligibility requirements
To be eligible for the Loans and Bursaries Program, you must:
Be a Canadian citizen or a permanent resident, refugee, or protected person under the Immigration and Refugee Protection Act.
Be a Québec resident or be deemed to Reside there when you apply for financial assistance
Be a full-time student (minimum 12 credits) or deemed a full-time student (minimum 6 credits) admitted and enroled in a recognized program at Université Laval
Not have exceeded the eligibility period and debt limit
Lack the necessary financial resources to pursue your studies*
*The Loans and Bursaries Program is a contributory program. This means that you, your parents, and your spouse (as the case may be) must contribute financially to your studies according to your incomes.
Calculating loans and bursaries
Loan and bursary amounts are calculated according to a simple principle. We estimate your expenses and subtract a contribution (yours and that of your parents or spouse, as the case may be). The balance is the amount of your financial needs, which will be covered by a loan. If your financial situation is precarious, you will also receive a bursary.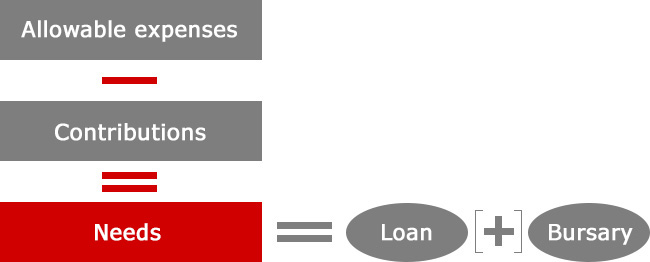 Allowable expenses are the sum of all necessary expenses incurred to pursue your studies. These are set by Aide financière aux études and include tuition, school supplies, basic living expenses (housing, food, transportation, etc.), and daycare.
Contributions are calculated based on your income (and that of your parents and/or spouse) and include employment income, employment insurance benefits, investment income, and scholarships over $7,500.
Assessment simulator
For an estimate of the loan and bursary amounts for which you are eligible, use the assessment simulator.
Note: If a contribution from your parents is taken into account and they earn more than $90,000 per year, you may not qualify for financial assistance or may qualify for a loan only.
Contributions from parents and spouses
Aide financière aux études assumes that you are still your parents' dependent. It is up to you to demonstrate your financial independence by proving that you meet at least one of the following criteria:
IMPORTANT: Living on your own DOES NOT mean that you qualify as financially independent.
Academic situation
You are continuing your studies in a program of over 90 credits AND have already earned 90 credits in the program and have completed 3 years of university
You have a bachelor's degree
Family situation
You live with your partner AND at least one child (yours or your partner's)
You are married or divorced
You are the biological or adoptive parent of a child
You are at least 20 weeks into a pregnancy
If one of these situations applies to you, parental financial contributions will not be considered. However, a spousal contribution may still be included.
Work
You have supported yourself for at least 24 months without being at school full-time or you have been out of school for more than seven years.
To have one of these situations recognized,
contact us
. We will provide the necessary information, process your request, and update your financial assistance file as applicable.
Confirmation of enrolment
If you already have an active request for financial aid, the Student Awards and Financial Aid Office will automatically provide Aide financière aux études with proof of your enrolment. Should you require proof of enrolment for any other reason (e.g., to defer payment on your student loan), contact us.
Loan and bursary payments
Once your profile has been established, Aide financière aux études will calculate your financial needs. If the loans aren't enough to cover your eligible expenses, bursaries will be added.
There are two payment schedules: one for students who are only receiving loans and one for those receiving loans and bursaries:*

*Amounts are for reference purposes only.
Students with loans only will receive a single payment at the beginning of each term. Students receiving loans and bursaries will have a larger sum deposited into their accounts at the start of the term, with additional aid in the form of monthly deposits.
Guarantee certificate
If this is your first time applying for financial assistance, you'll need a Guarantee Certificate. Aide financière aux études will notify you by email when it's available via Online Services. You'll need to print the document and present it to your financial institution to have your loan and any bursaries deposited directly into your account.
Paying back your student loan
You are not expected to pay back your loan while you are a full-time student (or deemed a full-time student).
However:
Interest is calculated starting the month after your studies come to an end
You will be expected to start paying back your loan 6 months after the end of your studies (you will be contacted by your financial institution)
If you want to pay back your student loan more quickly, contact your financial institution directly as soon as you finish your studies to establish an agreement.
If your financial situation is precarious and you need more time before you start paying back your loan, you may qualify for the Deferred Payment Plan.
Debt reduction
Aide financière aux études has a Loan Remission Program. Under this program, if you finished your bachelor's degree on time and received a loan AND a bursary every year of your studies, your debt will be reduced by 15%.
For details and to apply (required), visit the Aide financière aux études website.